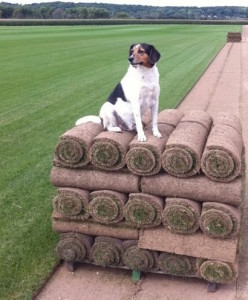 There are basically two ways to establish a lawn: turfgrass sod or seeding/hydroseeding.
Sodding is applying strips of turfgrass sod to prepared soil creating an "instant" lawn.
Seeding/hydroseeding is applying selected turfgrass seeds to prepared soil, allowing it to grow in place and maturity.  Hydroseeding incorporates a mixture of mulching material with the seed at time of application.
Based on surveys, the following are major benefits consumers received by sodding their home or commercial lawns.
Immediate visual impact– cultivated sod allows you to enjoy a lawn of instant beauty and maturity without the usual time-consuming hassles and the on-going costs related to seeding.
Usability– a sodded lawn allows low traffic use immediately and normal high traffic levels within two to three weeks.  Because of this, sod stops mud tracking immediately.  Seeded areas allow traffic use two to four months after seeding and normal to high use only after the first year.
Sod stops washouts– sodded slopes can accept heavy rains without erosion or damage.  Heavy rains, especially on seeded sloped areas, will cause seed, chemicals and silt to wash onto sidewalks and into sewer systems.
Weed control– sodded lawn requires minimal, if any, chemicals to control weeds because sod is cultivated using quality seed- most often certified, elite seed- and a production management program that virtually eliminates weeds from the sod field.  Most seeded areas at residential and commercial sites lack such management programs and require multiple applications of chemicals to combat competitive weed invasions until the turf is established.  Many weed seeds are in the soil used as top layer at the installation site.  Sod that is properly installed over weed infested soil stops the growth of most weeds.
Price of sodding compared to the cost of seeding
There is a difference between price and cost.  Price is the initial amount you pay to acquire an item.  Cost is the actual money outlay over the life of the item.
During the first year –or more- that it takes to establish a lawn beginning with seed there are numerous costs added to the initial price of the seed.  These include maintenance costs, often requiring the rental or purchase of special equipment, compounded by increased water, fertilizer and chemical applications.
Sod customers believe that an "instant", beautiful lawn, which adds financial value to the property, and the lawn's immediate usability are important benefits that make the price of sod very reasonable.